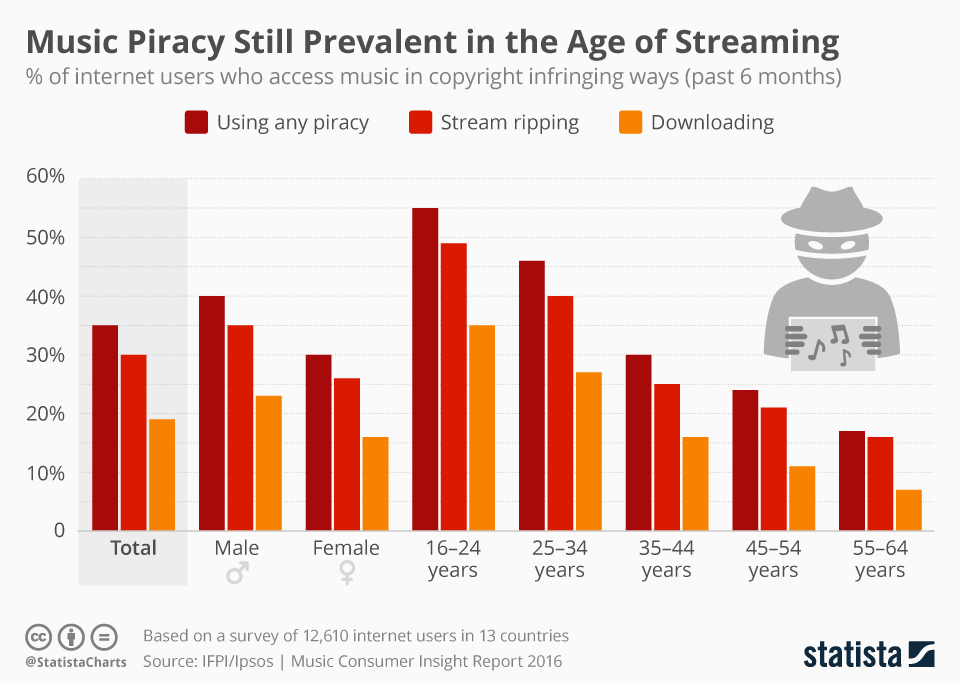 One of the argument I hear often about the marvelous benefits of streaming is how it has been the music industry savior, after the Napster years of generalized piracy which killed the cash cow that labels were enjoying, selling CDs and CD re-releases at prohibitive prices…
Perhaps it's true for big labels, who, although they've seen their margins drastically reduced since their heyday (but truth is that they were pretty guilty of milking that cash cow much too much), are now enjoying some renewed revenue from streaming, thanks to their partnership contracts, allowing them to collect most of the revenues generated (the top 10% of the streaming catalog from all providers is collecting 99% of the revenues). Not so surprising when the search algorithms and big playlists pushed to streaming platforms users are carefully tweaked to favorite the big labels and their artists.
Once again, it's the independent labels and the unsigned artists who bear the brunt of the industry debacle. And I would argue that the supposed streaming savior has made no difference at all for these 90%, who are truly the collateral damage of this digital economy, as Maria Schneider, five time Grammy award winner, points out in her open letter to the NMPA (National Music Publishers Association) outlining her perspective on the MMA (Music Modernization Act). 
And not only didn't streaming made any difference for independent artists, I would also say it made things worse.
But hey! Piracy has been vanquished, hasn't it? Well, there are some indications that it's actually not the case, as you can see in the chart above which lists the percentage of various types of copyright infringements by age group (based on consumer research from IFPI - the International Federation of the Phonographic Industry). 
Combine Youtube free-for-all, – knowing they are by far the biggest streaming platform nowadays, with a pay per play rate far below any other thanks to infamous "Safe Harbor" loopholes –, with a rise of "stream ripping" tools, allowing anyone to download what's played from free accounts on any streaming platforms, and you get a much more insidious kind of piracy, one that takes the guise of legality and one that is mostly benefiting the streaming giants.
Again, if big labels, and indeed streaming platforms can brush that off as simple losses compensated by their ad-generated huge profits, it cannot be the case for unsigned artists who are seeing their work stolen, or abused at a pay per play rate so low it's laughable. What artists lose by believing in the streaming golden mirage is real physical and download sales that is fair pay for their craft, investment, time and efforts.
In the end, I would argue that piracy was better for unsigned artists, as it was mostly touching big labels, and it was after all, illegal, so actions could be taken against it. Nowadays, streaming is little more than legalized piracy and there's not much we can do about it, or so it seems, short of opting out and educating our fans. I believe that opting out is our only option because it is our work that is exploited… Remove the work and that could ultimately force the industry to reconsider the digital economy landscape. If they don't do it, then I suppose it's time we do it ourselves.
But until we all remove our copyrighted work from all these places where everyone can access it and pirate it freely at no cost and with no consequences, there's no doubt we are in fact just feeding the monster…
Ready for a change?
EDIT: Also see, published today, this article from Digital Music News